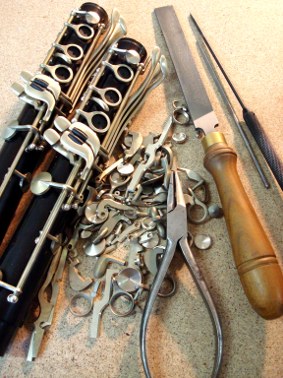 Instrument Repairs
Bedrossian Music is a well established brass and woodwind repair shop in Warwick, Rhode Island and has been around for 30 years. We offer excellent services in repairing brass and woodwind instruments at affordable prices.
Instruments we repair:
Flutes, Oboes, Bassoons, Clarinets, Saxes, Trumpets, Trombones, French Horns, Baritones, Tubas, Drums, Bells, Guitars, & Electric Basses
Specializing in services such as:
Chemical Cleaning
Bell and Lead pipe Installation
Relaquering and Replating
Valve Rebuilding
Valve Alignment & Straightening
Water key Installation
Handrest Installation
Slide Alignment
Dent Removal
Full Custom Work
Mark Bedrossian is a 1978 graduate of Eastern School of Musical Instrument Repair.