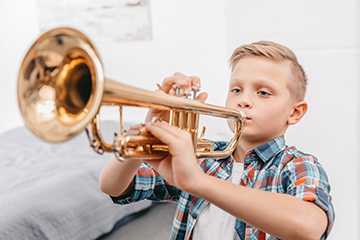 Music Classes For Homeschoolers
We are proud to offer affordable music classes specifically for home schooled children of all ages. Our classes take place during the normal school week, and allow children who are home schooled to get a musical education and participate in group music lessons with other children in their age group in a classroom style environment.
Our classes are taught by skilled musical educators, most of which are currently teaching in, or have retired from teaching in local schools. Most importantly, they are all well experienced in educating young minds and can provide a top-notch musical education for your child.
All of our lessons and groups are scheduled with the child in mind, grouping by age, skill level, and instrument. 
Frequently Asked Questions:
Where do classes take place?
As it stands, we will be doing classes at the Bedrossian Music Storefront located at 78 Post Road in Warwick, RI. We are looking to expand the program shortly and are currently organizing lessons at local community centers throughout Rhode Island for the convenience of our students.
What is the cost of the program?
Our program costs $80 per month for 4 one hour class meetings. This is an incredible deal, especially since most other music lessons offered at other stores are billed significantly higher and only for 30 minute lessons.
What is different about the homeschooling group lessons that you offer?
Our lessons for homeschoolers differ from other Music Classes and even our own after-school programs in many ways. Most importantly, we offer a different experience from public school music classes because of our class size and composition. We limit our class sizes and pair our students with a teacher and lesson material based on the skill level of the student. This allows our students to get the right learning content, and the smaller class sizes allow the teachers to be better in tune with the unique learning progress of each student individually.
My child doesn't have an instrument, do you offer them? 
We do! Bedrossian Music offers one of the most affordable instrument rental programs in the state! Just be sure to mention your child may need a certain instrument when booking your class, so we can have one prepped and ready to go.
How long are the classes, and how many classes are there?
Each class runs for one hour, and we run classes once per week. Classes run year round and there is no requirment for attendance to continue in classes, however a student may benefit from switching to a group that better matches their skill level after a period of absence.
My student wants to learn an instrument that isn't listed, do you offer it? 
More than likely! We have a rotating staff of over 20 teachers that teach many instruments at many varying skill levels. If you don't see the instrument you would like listed, please check 'Other' on the interest form below and let us know in the message section which instrument you are interested in learning.
My student has a few friends (or siblings) that would like to attend also, do you offer private groups?
Absolutely! Please let us know in the message section of the form below and we would be happy to see what we can do.
Start Your Journey By Filling Out The Form Below!